SoundRacer is one wild and crazy car accessory!
Easy to install, cool to have, and fun to give. You will feel, live, and experience the sound of your lifetime when your family car "transforms" into a powerful muscle car!

SoundRacer is an ingenious device that when installed in your car, will produce one of many aggressive engine notes (sent to your car stereo via FM transmitter) that follows and matches your engine's RPM in real time!
---
What's the difference between the Model V and Model X?
The

Model V

each has it's own distinct sound depending on which type you choose. The Model V can be purchased with:
Shelby Mustang Cobra V8

Ferrari 512 V12

AUX-IN

allows you to stream music from your mobile phone or mp3 player to your car FM radio.

---
Both the SoundRacer Model V, and Model X double as a FM transmitter for your phone or MP3 player!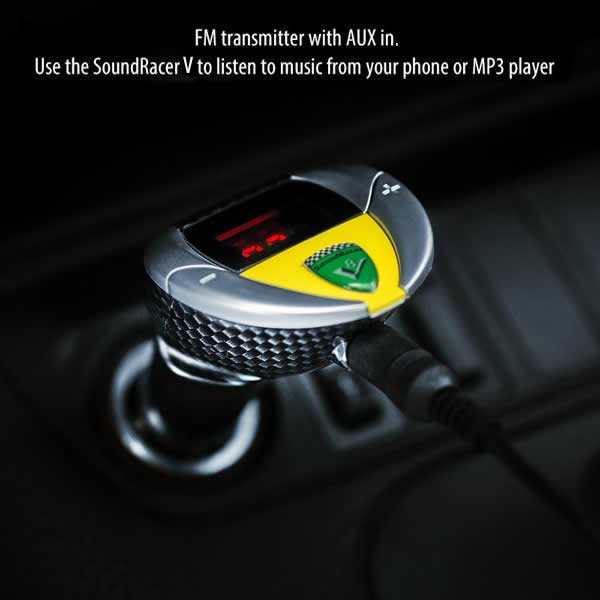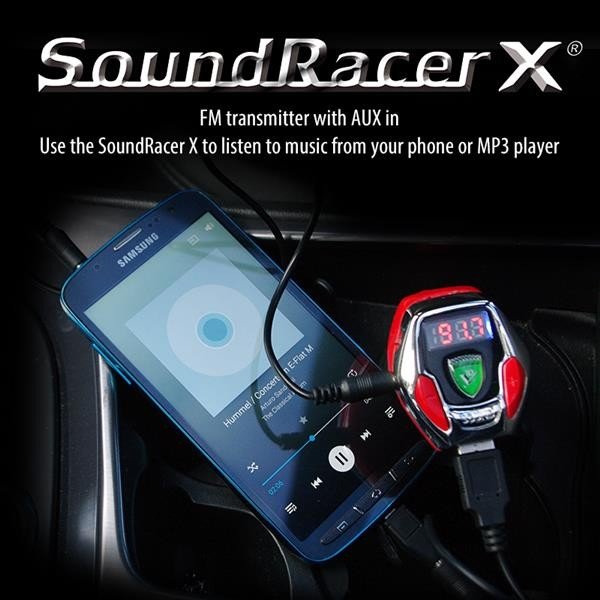 ---
The

Model X

has six sounds recorded into one single transmitter:
All

of the sounds above, plus

Lamborghini Gallardo V10

Lexus LFA V10J

Harley Davidson V-Twin

Suzuki GSX

Additional sounds can be downloaded to the

included 16GB MicroSD card.

AUX-IN

allows you to stream music from your mobile phone or mp3 player to your car FM radio.


AUX-OUT

allows you to connect to your car stereo's (if equipped) AUX input.


1000mA USB charger

for phone or tablet.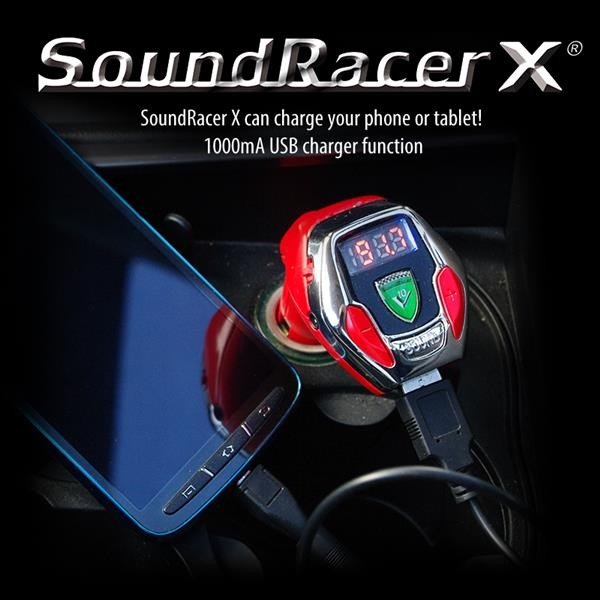 ---
"Shonky and the SoundRacer V8" from Gizmag.com
— "Call me childish, but I reckon this is one of the best gadgets I've seen in years. The SoundRacer plugs into the cigarette lighter socket of your boring family car, then sends an FM signal to your car stereo that makes your car sound like a roaring V8, faithfully matching revs and basically making the meekest of cars feel like a monster truck. So you can enjoy a ribald hoon factor from the driver's seat without looking or sounding like a petrolhead to passers-by or the local constabulary. We had a blast making the demo video."